Tsopela
Some people claim, that Tsopela only can be accessed from the sea, this is what some guides and 'captains' on the small tourboats tells,
but it is definitively not correct!
Show map

Beginning of the road to Tsopela.

(The mountain in the background is in Turkey.)

Hide map
Driving from Pagondas to Spatharei you will meet these signs.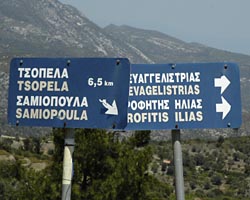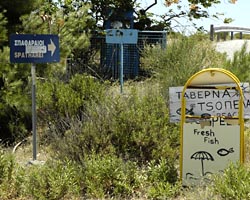 6,5 Km. down to Tsopela, and it is really down! 550 meters, but it feels as more.
The other sign tells, that 'Taverna Tsopela' serves frish fish, but you can also get other things. The taverna has no electricity.
They have agenerator to make power to their refrigerators, and cooking is done over open fire and grill.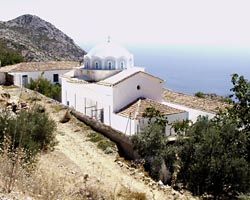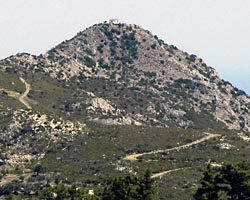 On the way down you pass Evagelistrias and have a nice view to the local Profitis Ilias.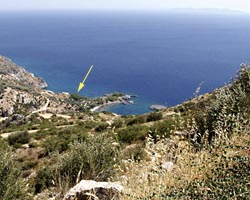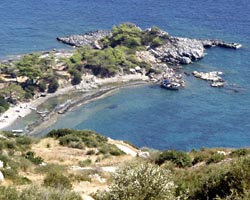 After some time you will have the first view to Tsopela and the 2-300 m. nice beach.
This is the place some of the tourboats visit, with grill-food, music, dance, wine & ouzo on the beach.
Most of the guests believe, that they are alone on an inaccessible beach, and they never discover the nearby taverna
and parked cars. (marked w. arrow).
A tourboat is visible on the right picture.
In the horizon on the left picture there is a weak contour of the small Greek island Agathonisi located 19 km. south of Samos.
Area: 13.5 km² and highest point: 209 m.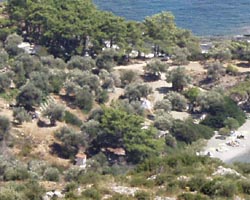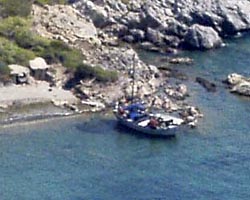 A closer look to the taverna area and the tourboat.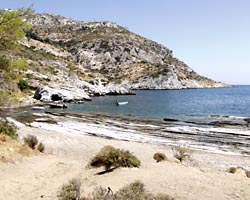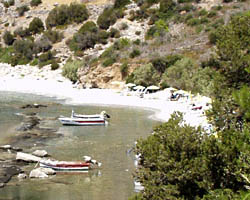 The left and the right beach.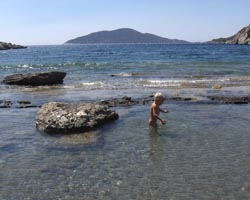 Samiopoula ('Little Samos') seen from the beach.
We highly recommend a 4WD car when visiting Tsopela.
The road is very bad on the last part.
As everywhere on Samos on the worst roads, we also here saw people on small scooters!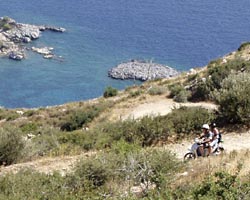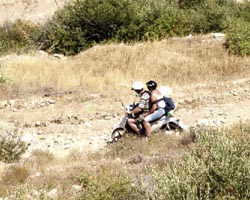 With great care they could drive down... But they have to walk a lot beside the scooter to get up again -
or all the way and pay the bill, if the scooter got damaged !
- No insurance covers when driving on that kind of roads. -