P-place problems in Kokkari.
Introductory presentation of the present situation. by Jan Backstrøm, Kokkari
Everyone who has been visiting Greece has observed that all car drivers park their cars wherever they want. If the police pass by, they whistle and the drivers/owners/users of the cars come and move the cars out of sight of the policemen. After a short time every spot is filled up again with cars. The police don't care.
There are also big parking problems here in Kokkari, even during the winter there can be problems when the buses and big trucks are passing through the village. But in the summertime the problem is very difficult.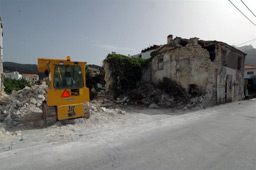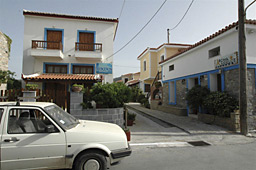 The local government decided to establish a new parking area between Hotel Aiolos / Hotel Archangelos Village and Pension Eleni. Two earth-mowing machines began the work a few weeks ago, but after two days they suddenly stopped. The rumours began and nothing happened for many days.
Now we have heard that the three hotels don't want to have the parking place in their neighbourhood. There has been big arguing between the owners of the hotels and officials from the local government.
My question is therefore:
DO THE HOTEL OWNERS WANT TOURISTS TO THE ISLAND AND ESPECIALLY TO KOKKARI OR NOT?
The hotel owners wish to have the new parking area placed at another location so the cars don't disturb their (own) guests.
IT IS BETTER TO DISTURB OTHER GUESTS IN OTHER HOTELS.
From our balcony there is only two meters to the biggest parking area in Kokkari and we admit that some dust is a problem. We tried to complain when they made the parking area, but without success. They told us that they could not lay asphalt on the ground, due to an agreement with the owner. Instead they spread a lot of used oil all over the area. This is what we call environmentally pollution. Now the surface is dry again and the dust problems start. Asphalt has been much better, both for the dust and for the environment. There are only very small problems with noise, engine sound, music etc.
HOW CAN THEY STOP THE WORK ON THE NEW AREA? IT IS STINKING.
We could not stop the making of "our" parking area and pollution same place.
As a remark, the owners of Hotel Aiolos have normally two cars parked and Pension Eleni have also their cars parked in "our" parking area.
Comments from webmaster:
The main goal with the above is of course the parking situation. But at the same time it is a good illustration of 3 basic problems:
1. Missing co-operation.
2. How some people try to "feather their own nest" at the expense of future development in the area.
3. The missing understanding of protection of the environment against pollution.
Comments and explanations are very welcome.