KOHILI tavern.
Updated tourdescription: see at the bottom of the page!!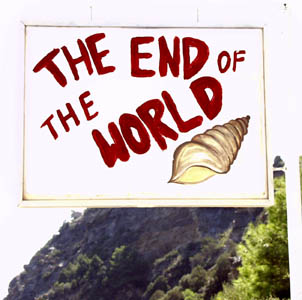 We can highly recommend to visit this tavern.
It is really (as the sign tells) at 'the end of the world'.
Andreas Kotsos has created this little pearl in an old house he got from his grandfather. Here he serves very nice food and drinks. All bread and food are made in a big outdoor oven. The place is without electricity, so Andreas has a diesel-generator to drive the refrigerators and other important things.
The last 4 years Andreas has made a 'road' out to the tavern, so it now is possible to drive to it. Earlier there was only a footpath. I call it a 'road', because I will not recommend guests in small rented cars to drive there (insurance-problem). Use a jeep-type car, off-road-bike or do as about 90 % of the guests: walk to the place.
Here you can sit in the shade and enjoy your meal and the beautiful view.
If you are lucky, you also can see the dolphins playing in the bay below the terrace.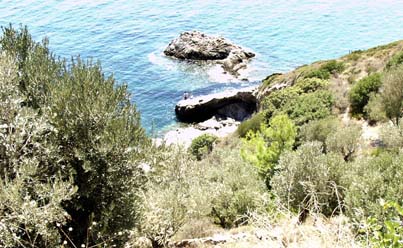 A 'lookdown' from the terrace.
If you want to have a swim - you just walk down the stairs,
and you can have a shower when you come back up.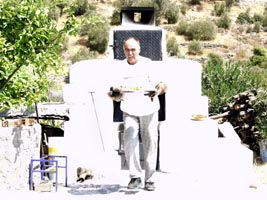 Andreas carrying the fresh-baked bread from the oven.
We just had a little (but very good) meal: homemade thatsiki & Greek salad.
Andreas offered us a drink, but when we drive we NEVER drink any kind
of alcohol (not even half a beer). Andreas said: No problem - you will have
my 'special-drink'. Very good, fresh and tasty !!!
It was homemade figs-juice - wonderful taste and beautiful to look at !
| | |
| --- | --- |
| | |
| Our little meal. | Andreas' special |
We saw, that there was a track continuing up in the mountains, and we asked Andreas if it was possible to drive that way, and where it ended. He said: Yes it is possible, if you drive 2 persons on a strong MC - one to drive - and one to push!! (We had a 4WD jeep - so no problem.)
The track leads up on the top of the mountain and ends down in Agh Kiriaki. The tour is 3-4 times longer than from Limnionas to Kohili. I have tried to make a sketch on the map below (there is no map covering that area). Andreas said: Just follow the track, and NEVER turn right when you are on the top. The only place to turn right is close to the end of the tour (after passing a little church) when you come to a 'road-T'.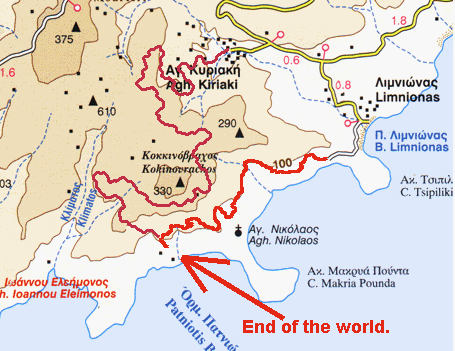 Distances: approx 3 km from Limnionas to 'End of the world'
and approx 12 km through the mountains to Agh Kiriaki.
The mountaintour take rather long time, and may be a little 'test' of the driver,
but it is beautiful !! I think this tour will be one of our 'standard tours' every year !!
( We have a few of that kind..)
Here is one of the panoramas you can enjoy on the tour from
Kohili to Agh Kiriaki.
| | | |
| --- | --- | --- |
| | | |
| Show map | Location of Kohili: | Hide map |
Updated tour info:
On our first tour in 2006, we found, that the 'road' was extremely bad, much worse than we remembered! A week later on the second tour we were told, that because of damages in the wintertime it was impossible to drive the route we followed a week before. They have tried to drive the tour with a tractor from Kiriaki, but they gave up !!
No wonder, that we found the tour a 'little' hard!!
Here is some extra info to the tour:
Shortly after leaving Kohile you see 2 roads to the left (down to the next bays) continue straight ahead, and after about 15 min. drive there is one more to the left (up to a little white building) follow this one, and you will bypass the bad part of the tour. You will only need 4wd 2 or 3 placed, and it it a very beautifull tour with many nice views.