About us.
Torben

Hi - My name is Torben Bolhøj, and I live on another small island: Bornholm, Denmark.
I visited Samos for the first time in 1995 and when my vacation ended I only had one wish: "To return as soon as possible".Since then I have visited this wonderful island up to 4 times every year.
Many have asked me: "Why Samos and what is so special there?"
The explanation is: "The local people, the nature and the Greek music!"
In Nov. 2012 I passed one year (total) on Samos at the same hotel and the same room (La Plage, Kokkari), and as a tribute to Samos "my second home" I have founded this website.

Jan

Until Nov. 2004 'Samostour.dk' was a 'one-man-job', but then one day a nice thing happened: Jan Backstrøm offered his help!! From that day Samostour really began to expand. Jan and his wife are from Norway and they now live permanently in Kokkari. Jan & I co-operates when I am on Samos, and in the rest of the year Jan delivers pictures and stories to the website, and thanks to Jan it is possible to make the very popular "All year report". Jan is not 'helping me' with Samostour any more - we are now equal partners
Jan & I have one common goal with Samostour:
To bring good and interesting information about Samos.
We try to do our best - and we are very thankful for suggestions to do it better.
---
A small "mix" of information and flashbacks.
by Torben
In 1996 I fell in love with "Smokey", and since then we have spent a lot of time together and have had many good experiences. "Smokey" was not a young girl, but every year she was ready for tours on the smallest dirt roads and tracks in the mountains. For 11 years I rented "Smokey" by Yannis ("Duck", Kokkari) and I have to thank Yannis for very good service all those years!
"Smokey" was sold in 2008, and I had to use a substitute for her.
In 2009 I got a big gift from Nicos Rentals, Pythagorion: A Suzuki TS!! My friends says, that it is a "Swedish girlfriend" ( the yellow/blue colours).
So now I have my own bike on Samos, and have to do all the service by myself.
Torben and Smokey on the track...
The new bike..
Memorable moments
| | | |
| --- | --- | --- |
| | | |
| The road disappeared. | Finally on the top (look at the wheels) | Changing wheel in the mountains. |
Greek night at Restaurant Mythos in 2003 with Vangelis, Dimitris and Giorgos where I tried Vangelis's bouzouki. I was completely lost and I had to get one myself...
Luckily my wife and I decided that it would be a good way to mark my half year anniversary on Samos.

Yannis Loulourgas in Pythagorion made one for me.
Yannis makes very nice instruments, with an eminent sound, and he is also a fabulous bouzoukiplayer and singer.
| | | | |
| --- | --- | --- | --- |
| | | | |
| Yannis playing. | The wall in his shop. | His workshop. | "My bouz" |
Many things have changed..
For many years it was a tradition for us and many other visitors to end the day on the harbour.
It was so nice to relax in the blue chairs, to have a drink and to watch people passing by.
Around 2006 things began to change. Bars and restaurants turned round between the right and left part of the promenade. Some got new owners, some new popped up for a short time and others were closed for a season or two. It seems as if this changing around will continue...
Obviously there is a conflict between the owners wish about expansion and the recurrent visitors wish of stability - "bigger" is not always "better".
There are many good restaurants in Kokkari.
One of my favorites: Restaurant Mythos, have got a new look!
and now they also have a website: www.RestaurantMythos.com
MANY MORE THINGS WILL CHANGE ...
and Jan and I will do our best to keep you imformed.
Jan in action: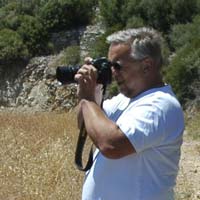 ---

As you can see - there is a table ready for you !


We do hope to meet you on Samos some day...

Best regards

Torben